Fishbone-induced Pericardial Hemorrhage Resulting in a Misdiagnosis of Acute Myocardial Infarction
By
Zuoan Qin

,

Liagnqing Ge
Affiliations
Department of Cardiology, The First People's Hospital of Changde City, Changde, China
doi:
10.29271/jcpsp.2022.04.9
ABSTRACT
Fishbone intake is a common clinical event; but serious complications resulting from the ingestion of fishbones, such as perforations in the stomach, diaphragm, and pericardium and heart lacerations, are rare. Here, we present a case of fishbone-induced pericardial hemorrhage that led to a misdiagnosis of acute myocardial infarction (AMI) since the emergency coronary angiogram showed normal coronaries. However, the patient's circulatory status was not good and an echocardiogram revealed pericardial effusion. A contrast-enhanced computed tomography (CT) of the chest and abdomen showed a foreign body in the upper abdomen. Therefore, an urgent exploratory thoracotomy was performed, and it was discovered that the pericardial hemorrhage was caused by the fishbone puncturing the pericardium and myocardium of the right ventricle. The fishbone was removed, damaged vessels were repaired, and the pericardium was closed with a drain. The patient was discharged in good clinical condition. In order to avoid unnecessary damage and suffering, the possibility of a foreign body in the esophagus or heart must be considered when patients have chest pain, and careful reporting of histories and corresponding examinations are necessary.
Key Words: Acute myocardial infarction, Fishbone, Pericardial effusion.
INTRODUCTION
CASE REPORT
Table I: Timeline of events.
| | | |
| --- | --- | --- |
| Date | Time | Event |
| | 17:30 | Acute thoraco-abdominal pain. |
| | 10:00-11:30 | Local hospital (Emergency percutaneous coronary angiography and Pericardial puncture). |
| | 00:30 | Emergency Department of our hospital. |
| | 00:30-02:00 | Thoracic Surgery. |
| | 02:11 | Transfer to the intensive care unit. |
| | 03:30 | Pericardial drainage. |
| | 06:00 | Enhanced thoraco-abdominal CT. |
| | 10:00 | General hospital consultation. |
| | 11:38-13:08 | Emergency thoracotomy and pericardial exploration. |
| | 15:00 | Transferred to the thoracic surgery general ward. |
| | 08:17 | Extubation. |
| | | Switch to thoracic surgery general ward. |
| | | Discharged. |
Figure 1: First electrocardiography (ECG).
Figure 2: Chest and abdomen linear CT. (A) Coronal section; (B) Sagittal section; (C) Transverse section.
Figure 3: (A and B) Fishbone puncturing through diaphragm and pericardium. (C) Extracting the fishbone. (D) Medical glue with pericardial slice to close heart wound.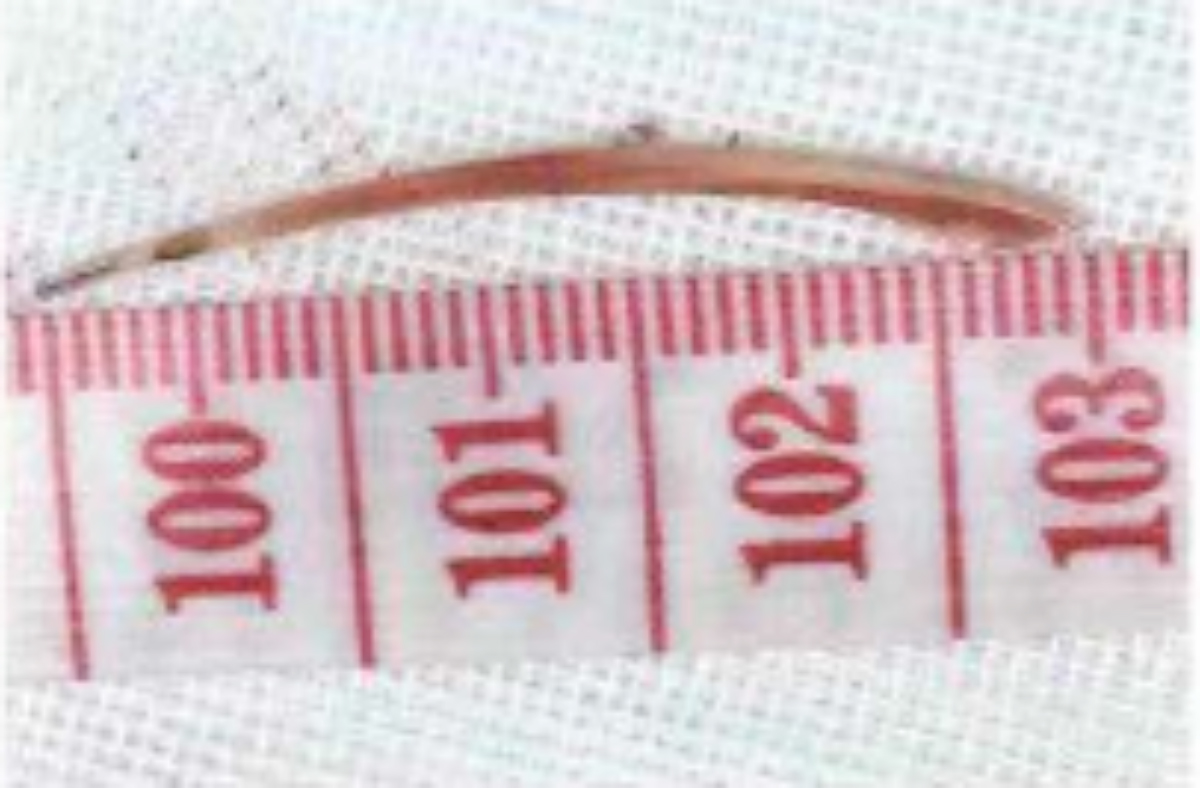 Figure 4: Extracted fishbone.
Due to respiratory failure and persistent hypotension, he was ventilated and transferred to the intensive care unit (ICU). Dopamine was administered for muscle support. The cardiologist performed a two-dimensional echo examination that showed cardiac tamponade due to excessive hemopericardium, and a second pericardial puncture drew 200 ml of blood. The liquid drawn from the nasogastric tube showed blood-stained extracts. Contrast-enhanced CT of the chest and abdomen showed foreign bodies in the lower chest, suggesting that those foreign bodies came from the esophagus and/or stomach; and caused pericardial perforation and heart damage (Figure 2). The patient underwent endotracheal general anesthesia; and emergency thoracotomy and pericardium exploratory surgery was performed (Figure 3). We found a fishbone, approximately 3.5 cm in length (Figure 4) that had penetrated the stomach, diaphragm, pericardium, and myocardium of the right ventricle. The surgeon closed the heart and pericardium wounds with medical glue. The general surgeon observed that the abdominal septum had been adhered, and the abdominal cavity was clean. The operation was performed without any complications.
DISCUSSION
PATIENT'S CONSENT:
Written consent was taken from the patient.
CONFLICT OF INTEREST:
The authors declared no conflict of interest.
AUTHORS' CONTRIBUTION:
ZQ: Writing – original draft, data collection and follow-up.
LG: Literature search and final draft of the case report.
REFERENCES
Goodacre S, Cross E, Arnold J, Angelini K, Capewell S, Nicholl J. The health care burden of acute chest pain. Heart 2005; 91(2):229-30. doi: 10.1136/hrt.2003.027599.
Webb WA. Management of foreign bodies of the upper gastrointestinal tract: Update. Gastrointest Endosc 1995; 41(1):39-51. doi: 10.1016/s0016-5107(95)70274-1.
Goh BK, Chow PK, Quah HM, Ong HS, Eu KW, Ooi LL, et al. Perforation of the gastrointestinal tract secondary to ingestion of foreign bodies. World J Surg 2006; 30(3): 372-7. doi: 10.1007/s00268-005-0490-2.
Ismail TF. Acute pericarditis: Update on diagnosis and management. Clin Med 2020; 20(1):48-51. doi: 10.1007/ s00268-005-0490-2.
Sharland MG, McCaughan BC. Perforation of the esophagus by a fishbone leading to cardiac tamponade. Ann Thorac Surg 1993; 56(4):969-71. doi: 10.1016/0003-4975(93) 90368-r.
Wang QQ, Hu Y, Zhu LF, Zhu WJ, Shen P. Fishbone-induced myocardial injury leading to a misdiagnosis of AMI: A case report. World J Clin Cases 2019; 7(20):3335-40. doi: 10. 12998/wjcc.v7.i20.3335.
Hokama A, Uechi K, Takeshima E, Kobashigawa C, Iraha A, Kinjo T, et al. A fishbone perforation of the esophagus. Endoscopy 2014; 46 Suppl 1:216-7. doi: 10.1055/s-0034- 1364952.
Birk M, Bauerfeind P, Deprez PH, Häfner M, Hartmann D, Hassan C, et al. Removal of foreign bodies in the upper gastrointestinal tract in adults: European society of gastrointestinal endoscopy (ESGE) clinical guideline. Endoscopy 2016; 48(5):489-96. doi: 10.1055/s-0042- 100456.
Goh BK, Tan YM, Lin SE, Chow PK, Cheah FK, Ooi LL, et al. CT in the preoperative diagnosis of fishbone perforation of the gastrointestinal tract. AJR Am J Roentgenol 2006; 187(3):710-4. doi: 10.2214/AJR.05.0178.